Floor Sanding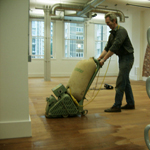 Unbeatable in cost and quality - Floor sanding and varnishing only £18 per square meter!

Step by step process.

- We start by taking out any big furniture & carpets if required.
- If any boards are in need of replacement we will then fit them to the best match.
- Then we start the sanding process using four different grades from coarse to fine.
- Gap filling would be required in between sands depending on the size of gaps and in case of any drafts that may be coming up from under the house.
- If you choose to have your floors varnished or stained this will require 3-4 coats. With one to two hours drying time in between coats.
- If you choose to have oil based finished this will require 2 coats with a drying time of eight to ten hours in between coats.
- We will then tidy up and leave an amazing finish to your floors.